April 23, 2020 - November 30, 2021
Online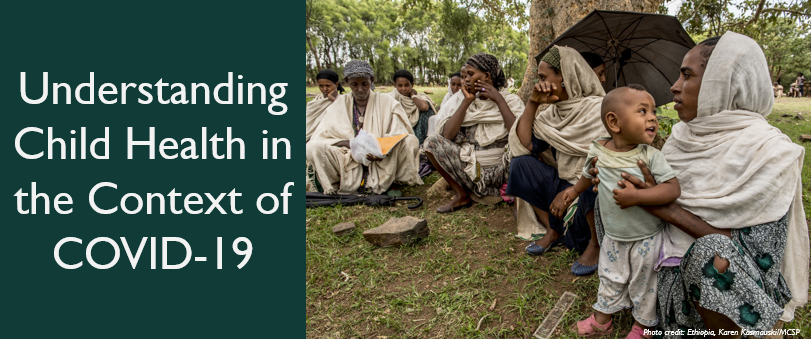 The Child Health Task Force Secretariat is working with subgroup co-chairs on a bi-weekly webinar series on child health and the COVID-19 response. Each webinar focuses on a different aspect of the pandemic response at the global and country level, as well as the challenges faced in continuing essential health services for children.
It is still unknown how long the pandemic will last and what its full impacts may be. The webinar series will adapt in scope and frequency as the response shifts to addressing the aftermath of the pandemic and its effects on child health.
Learn more about how the Task Force is addressing COVID-19 here. 
Upcoming Webinars:
Information and registration for future webinars in the series will be posted here!
Past Webinars:
September 29, 2021 - Returning to School: Impact of COVID-19 school closures on child & adolescent health in sub-Saharan Africa and plans for reopening safely
April 13, 2021 - COVID-19 Vaccines: Availability & implications for children globally and lessons from Kenya and Ghana
October 13, 2020 - Continuing Essential Health Services during the Pandemic: Ethiopia's Experience
October 1, 2020 - A Global Perspective on the Impact of COVID-19 on Child Education and Development: Experiences from India, Kenya and the United States 
August 13, 2020 - Impact and Lessons Learned for In-Country Private Sector Health Products Supply Chains
July 16, 2020 - Delivering Seasonal Malaria Chemoprevention in the Context of COVID-19 / Comment faire la Chimioprévention du Paludisme Saisonnier en temps de COVID-19
June 30, 2020 - Community Based Service Delivery During the Pandemic in Fragile and Humanitarian Settings
June 12, 2020 - Challenges and Opportunities for Digital Health
*Co-hosted in collaboration with the CORE Group*
May 21, 2020 - Partner Collaboration in the Response
May 7, 2020 - Community Response Efforts
April 23, 2020 - Experiences from Bangladesh and Pakistan