Members
The Child Health Task Force is currently comprised of more than 6,000 individuals based in 100 countries from over 1000 organizations, including government agencies, NGOs, multilaterals, bilaterals, and academic institutions, as well as individual consultants. The map below shows the countries where Task Force members are based, colored in purple.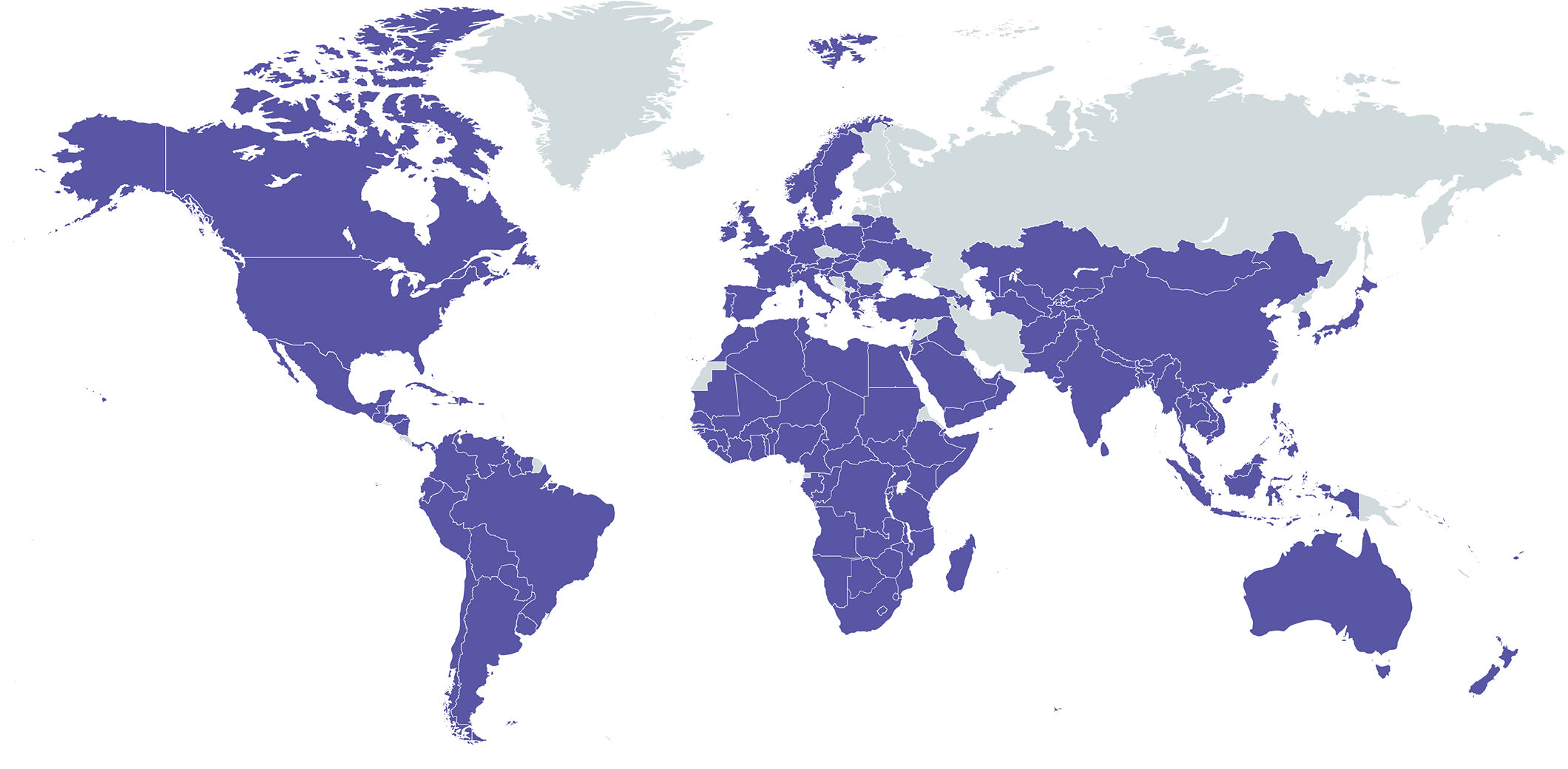 Task Force Member Spotlight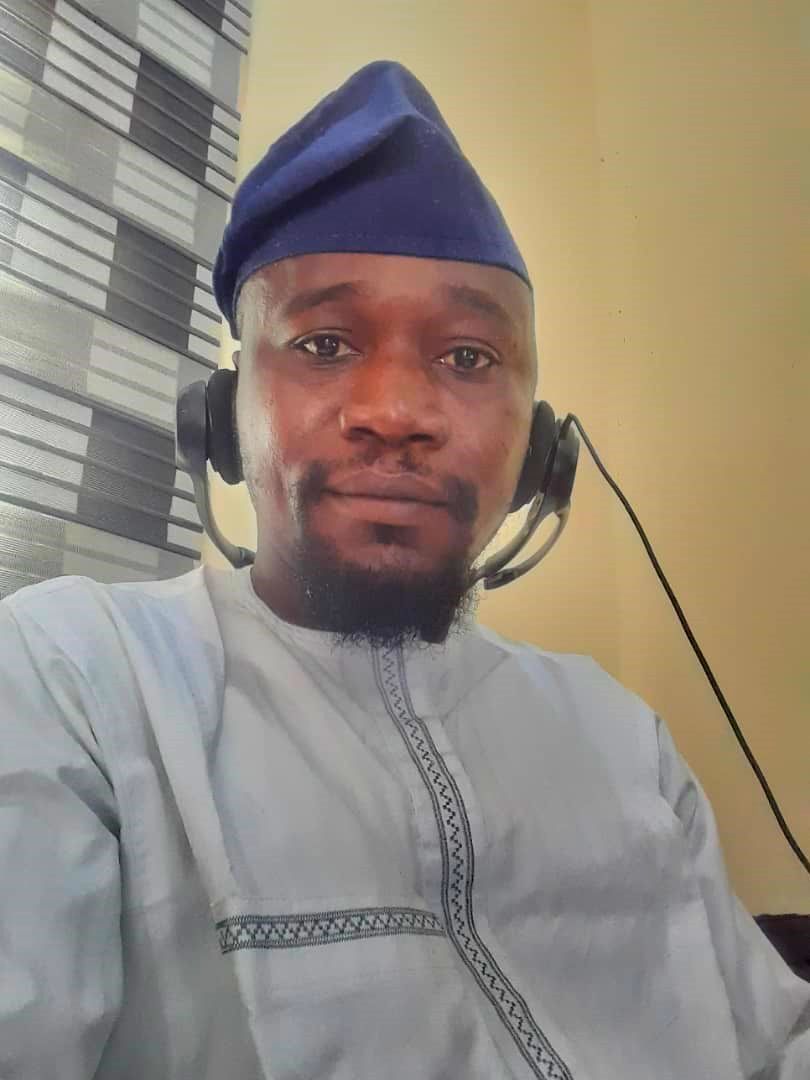 Thank you to all who completed the TF Annual Members' Survey. Rabiu Idris Yau was selected as the featured 2022 winner.
Name: Rabiu Idris Yau
Country: Nigeria
Position and organization: Monitoring and Evaluation Officer, USAID Advancing Nutrition Project
Work focus: I have a passion for improving child health and maternal and child nutrition and provide technical assistance to the state to generate evidence for policy-making advocacy and implementation. I have been working at the community level and seen people suffering from preventable diseases (i.e. anemia in pregnancy) which resulted in low birth weight, stillbirth, and sometimes maternal mortality. Because of this, I have been dedicating my time to provide the necessary technical assistance to people at various levels of program implementation. Such challenges also enhanced my curiosity to learn more on child health by learning some of the components of quality of care and to support the government of Nigeria achieve sustainable development.
What can we do to advance the 2030 Agenda? To provide more learning packages, based on the lessons learned from program implementation across the world.
Member Organizations
We found 894 member organizations from your search.
Abs development organization
Accra Psychiatric Hospital
Action for Disadvantaged People
Adama Hospital Medical College
Addis Ababa City Health Bureau
Addis Ababa University Tikur Anbesa Specialized Hospital
Addis Ababa University/ Ambo University
Adele Reproductive Health Foundation
Adventist Development and Releif Agency (ADRA) India
Advocacy Core Group - Kebbi
Africa Center of Excellence for Population Health and Policy, Bayero University Kano
Africa Centres for Disease Control and Prevention
Africa Forum for Primary Health Care
African Network for the Care of Children Affected by HIV/AIDS (ANECCA)
African Population and Health Research Center
Aga Khan University Hospital
All India Institute of Medical Sciences (AIIMS)
Alliance des religieux pour la promotion de la personne humaine et la santé intégrale
Alliance for Health Promotion
Alliance for Reproductive Health Rights (ARHR)
Allied Nutritionists Association
Amala Institute of Medical Sciences
Amhara Regional Health Bureau
Anglican Council in Malawi
ANJITA CHILD DEVELOPMENT FOUNDATION
Arthur Davison Childrens Hospital
Arthur Davison College of Paediatrics and Child Health
Association des Jeunes Juristes du Niger (AJJN)
Association For reproductive and Family Health
Association Nigerienne de la Santé de la Reproduction
Autism Care Nepal Society
Bangabandhu Sheikh Mujib Medical University
Bangladesh Shishu Academy
Bankura Sammilani Medical College & Hospital, Bankura, West Bengal, India
Bethel Bibleway Basic School
Bill & Melinda Gates Foundation
Birth Defects and Childhood Disability Research Center, Pune, India
Blantyre District Council
Boston Children's Hospital
Boston University School of Public Health
BOWEN UNIVERSITY HOSPITAL
Cameroon Baptist Convention Health Services
Cameroon Baptist Convention Health Services (CBCHS)
Capital Medical University
Capital University of Somalia
Catholic Medical Mission Board (CMMB)
Cayetano Heredia University
Center for Communication Programs
Center for Comprehensive Promotion of Reproductive Health
Center for Development Systems and Services (C4DSS)
Centers for Disease Control and Prevention
Central campus of Technology
Centre for Infectious Disease Research in Zambia
Centre for Population Health and Nutrition Services
Centre for Pregnancy and Childbirth Education
Child Health Advocacy Initiative
Child to Child Health Development Agency
Children Specialist Hospital
Children's Cardiac Center of Ethiopia
Children's National Hospital
Christian Health Association of Ghana
Christian Health Association of Nigeria (CHAN)
Clinical care/medical provider
Clinton Health Access Initiative
College of Health Sciences, University of Zambia
College of Nursing, Pondicherry Institute
Columbia University Mailman School of Public Health
Community Empowerment Lab
Community Health Impact Coalition
Community Partners International
Comprehensive Community Based Rehabilitation in Tanzania (CCRT)
Consultant for MIHR and ENN
CORE Group Partners Project
County Department of Health
County Government of Kisumu
Croix rouge Côte d'Ivoire
Decorous Pavilion Enterprises
Delta State University Teaching Hospital
Department of National Parks and Wildlife
Department of Social Development
Derbyshire Community Health Service
Deriba Center for environmental studies
Development Media International
Direction de la Santé de la Mère et de l'Enfant
Direction départementale de la santé
Direction sante communautaire
Directorate of Health Services, Government of Kerala
Directorate of Malaria Control - Pakistan
Directorate-General for European Civil Protection and Humanitarian Aid Operations
District Hospital Katni Madhya Pradesh
Doctors with Africa CUAMM
Dr D Y Patil medical College hospital and research centre Pune India
E-Abena Closet, US-IREX,DFI and Leaders of Africa Institute
Early Childhood Commission
East Africa Centre for Vaccines and Immunization (ECAVI)
East Africa Centre for Vaccines and Immunization-ECAVI
East Africa Medical Assistance Foundation
East Tennessee State University
Ecole Nationale de Santé Publique
Edge Global Development Partners
Education for All Coalition
Elizabeth Glaser Pediatric AIDS Foundation
Emory Rollins School of Public Health
Emory University School of Medicine
Engineering for Change (E4C)
Episcopal Relief & Development
Equity Afia Medical Centre Kisii
Ethiopia Public Health Institute
Ethiopian Pediatrics Society
Ethiopian Public Health institute
Ethiopian School Readiness Initiative
Every Breath Counts Coalition
Family Health Bureau of the Ministry of Health
Family Health International (FHI360)
Father Thomas Alan Rooney Memorial Hospital
Fatima Community Health Center
Federal College of Education (Technical), Potiskum
Federal medical center nguru yobe state
Federal Medical Center, Asaba
Federal Ministry of Health
Federal University Lokoja
Federal University of Technology Owerri
Financing Alliance for Health
First Things First, Arizona Early Childhood Development and Health Board
Food for the Hungry Cambidia
Franklin County Public Health
Friends without a Border (FWAB)
Frontier Centre For Community Empoweement (FROCECE)
Frontier for peace and advocate foundation Nigeria
Gambella Regional Health Bureau
General Hospital Wurno Sokoto
Ghana College of Physicians and Surgeons
Ghana Ministry of Education
Global Financing Facility, World Bank
Global Health Advocacy Incubator
Global Support Development Initiative Uganda (GDI-Uganda)
God-Reign Gospel Production
Good Health Community Programmes
Government Medical College, Thrissur
Hailemariam & Roman Foundation
Haryana Health Department
HaSET Maternal and Child Health Research Program
Health and Family Welfare Punjab
Health Department Pakistan
Health Directorate Gandaki
Health Equity International
Health NGOs Network (HENNET)
Health Policy Research Group
Healthy Mother Healthy Baby
HEART FOR GIRLS Initiative Uganda
Helen Keller International
Hepatitis Zero Commission Nigeria
Hineini Outreaches International
Ho West District Health Directorate
Hope For Future Generation Initiative
Hospital services management board sokoto
Hospital Services Management Board, Sokoto
Ihmr University, Rajasthan
Indian academy of Pediatrics
Indian Institute of Public Health Gandhinagar
Indonesia Association Nutrition
Institute for Global Public Health, University of Manitoba
Institute for Healthcare Improvement
Instituto de Salud Global de Barcelona
Instituto Nacional de Salud Pública (INSP)
Integral Global Consulting, LLC
Integrated Health Program IHP
Integrated Health Project
Integrated Research & Action for Development
Intenational Rescue Committee
Interagency Supply Chain Group (ISG)
International AIDS Vaccine Initiative (IAVI)
International Federation of Red Cross and Red Crescent Societies
International Medical Corps
International médical corps
International Organization for Migration
International Pediatric Association
International Planned Parenthood Federation
International Rescue Committee
International Union Against Tuberculosis and Lung Disease
International Vaccine Access Centre, Johns Hopkins
International Youth Council-Yemen IYCY
IntraHealth International
Irrua Specialist Teaching Hospital
Isa Wali Empowerment Initiative
J&K Health Services Doda India
Jan Sahas Social Development Society
JHONS HOPKINS CENTER FOR COMMUNICATION PROGRAMS
Jikomboe Integral Development Association (JIDA)
Jinja Regional Referral Hospital
Johns Hopkins School of Public Health
Jos university teaching hospital
Justice for Heart Warriors
Kampala Parents of Children with Disabilities Association-Makindye (KAPCDAM)
Karachi institute of nursing and allied health sciences
Karakoram International University
Kasungu District Health Office
KAWEMPE NATIONAL REFERRL HOSPITAL
KEMRI Welcomme Trust Programme
Kenya Methodist University
Kenya NGO Alliance Against Malaria
Kenya Nutritionists and Dieticians Institute
Kenyatta national hospital
Khesar Gyalpo University of Medical Sciences of Bhutan
Kiambu institute of science and technology
Kilimanjaro Christian Medical Center and Kilimanjaro Christian Medical University College
KK Women's and Children's Hospital, Singapore
Korea International Cooperation Agency
La Société burkinabè de pédiatrie (SOBUPED)
Laboratoire de Recherche en Nutrition Alimentation Humaine (LARNAH)
Ladoke Akintola university of technology
LiaquatNational Hospital & Medical College
Lighthouse Strategic Leadership
LIMA - Do More Foundation
Lira regional referral hospital
London School of Hygiene & Tropical Medicine
London School of Hygiene and Tropical Medicine
Maina & Kida Children Foundation
Make Hope Development and Relief (MHDR)
Malawi Health Equity Network (MHEN)
Management Sciences for Health
MARCH HEALTH CARE INITIATIVE
Massey Street Children's Hospital
Maternal and Child Survival Program
Maternal and Childhealth Avocacy International (MCAI)
Maternal Health Initiative
Mbarara Regional Referral Hospital/ Mbarara University of Science and Technology
Mbeya Zonal Referral Hospital
Medical Care Development International
Medical Care Deveopment Global Health
Medical College For Women and Hospital, Bangladesh
Medical College of Wisconsin
Medical Research Council Unit The Gambia at the London School of Hygiene & Tropical Medicine
Meningitis Research Foundation
Midwives Association of Zambia
Mildmay Uganda-Institute of Health Sciences
Ministry of Health Cameroon
Ministry of Health Ethiopia
Ministry of Health Malawi
Ministry of Health Myanmar
Ministry of Health Nigeria
Ministry of Health Rwanda
Ministry of Health Senegal
Ministry of Health Tanzania
Ministry of Health Uganda
Ministry of Health Zambia
Ministry of Health Zimbabwe
Mombasa County Government
MOMENTUM Integrated Health Resilience (MIHR)
MU-JHU Research Collaboration
MUHIMBILI NATIONAL HOSPITAL
Muhimbili University of Health and Allied Sciences
Nairobi Metropolitan Services
National Commission for Colleges of Education
National Health Mission - Government of Kerala, India
National Health Service (NHS), UK
National Health Systems Resource Center, India
National Malaria Control Program, Gambia
National Malaria Elimination Programme, Nigeria
National Orientation Agency
National primary health care development agency
National Science and Technology Council
Nelson Mandela Children's Hospital
Network for Health Equity and Development
New Horizon Foundation of the Blind (NHFB)
New York State Department of Health
Nigeria Centre for Disease Control
NITAG Support Hub (NISH) / University of Cape Town
Northwestern University Feinberg School of Medicin
Novartis Institutes for BioMedical Research
Nutrition Opportunities Worldwide Inc
Ogun State Primary Health Care Development Agency
Okongo Department of Health, Namibia
Olabisi Onabanjo University Teaching Hospital
One Million Community Health Workers
ORGANISATION CONGO PREVENTION SECOURS OCPS
Oromia Regional Health Bureau, Addis Ababa, Ethiopia
Pacto por la Primera Infancia, A.C.
Paediatric Association of Tanzania
Paediatric Society of Ghana
Pan American Health Organization
Partners In Health/Inshuti Mu Buzima, Rwanda
Partnership for Supply Chain Management
Perinatal Society of Nepal (PESON)
Phanuel Global Health Foundation
Plateforme Société Civile pour la Nutrition
Population and Development Initiative
Post Graduate Institute of Medical Education & Research, Chandigarh
Première Urgence Internationale
Programme National de Lutte contre le Paludisme, Côte d'Ivoire
Project Concern International
Public Nutrition Directorate, Afghanistan
Punjab AIDS Control Program Lahore Pakistan
Raheem Memorial Hospital, Lagos
Regional General Hospital Dr. H. Soemarno Sosroatmodjo, Indonesia
Regional Hospital Bamenda
Regional Psychosocial Support Initiative (REPSSI)
Royal Care Super Specialty Hospital - Neelambur, India
Rushere Community Hospital
Rwanda Bio medical center(RBC)
Rwanda Pediatric Association
Rwanda Village Community Promoters
Saint Paul's Hospital Millennium Medical College, Addis Ababa
Saint Paul's Hospital, Millennium Medical College, School of Nursing
Samasha Medical Foundation
Saran Ashram Hospital, Dayalbagh Educational Institutions Agra India Agra
School of Economic Policy Studies, Nepal
School of Public Health. University of Nairobi
Shastho Shurokkha Foundation
Shifa Tameer-e Millat University, Islamabad Pakistan
SickKids - Centre for Global Child Health
Sickle cell disease eradication initiative (SCDEI), Damaturu, Nigeria
Simba Education Consultants
Simcoe Muskoka District Health Unit
Social Solutions International, Inc.
Society for Family Health Nigeria
Society for Family Health, Nigeria
Socios En Salud Sucursal Perú
Sokoine University of Agriculture
Sokoto State Ministry of Health
SOS Children's Villages Somalia
South African Medical Research Council
South west regional health bureau
Specialist hospital sokoto
Spreeha Bangladesh Foundation
Sri Ramachandra Institute of Higher Education and Research (SRIHER)
St Nicholas Hospital, Lagos
St. Martin De Porres Hospital Odumase-krobo
State PHC Dev. Agency, Sokoto - Nigeria
Stella Maris Polytechnic University
sunflower early childhood education post
Swiss Tropical and Public Health Institute
Sydani Initiative for International Development
Sylvester Olisake Igbedioh Consuting
Talking Tipps Africa Foundation
Tam community health advocacy
Tanzania Early Childhood Development Network (TECDEN)
Tanzania Early Childhood Education and Care
Tanzanian Youth and Children(TYC)
Teachers service commission
Terre des hommes Lausanne
THE AIDS SUPPORT ORGANISATION (TASO), Uganda
The AIDS SUPPORT Organization
The Early Childhood Commission
The east Africa children's foundation
The Geneva Learning Foundation
The Global Financing Facility
The Human Safety Net Foundation
The Little Chair in the Corner
The Maharaja Sayajirao University of Baroda
The Obafemi Awolowo University Teaching Hospitals Complex (OAUTHC), Nigeria
The Open Society Initiative for Eastern Africa (OSIEA)
The Regional Psychosocial Initiative (REPSSI)
The Winford Centre for Children and Women
TIME AND BYL NAIR CHARITABLE Hospital
Tomo riba institute of Health and Medical Science
Tulane University School of Public Health and Tropical Medicine
Turkana County Government
Turkana county government
Udugu Ufanisi Ustawi wa Jamii (3UJ) Development Limited
Uganda Protestant Medical Bureau
UK Department for International Development
Ummeed Child Development Center, Mumbai
Union des femmes djiboutienne
United Nations Children's Fund
United Nations High Commissioner for Refugees
United Purpose/self Help Africa
United States Agency for International Development
Universidad Iberoamericana
Universidad Peruana Cayetano Heredia
Universidade do Estado do Pará
Universidade Pedagógica de Maputo
universidade salgado de oliveira
Université de Kinshasa, RDC
Université Faculté sciences Santé humaines
University for Development Studies - Tamale, Ghana
University of Adelaide, Australia
University of Agriculture, Faisalabad, Pakistan
University of British Columbia
University of Calabar Teaching Hospital, Nigeria
University of Cape Town Lung Institute
University of Florida Health
University of Global Health Equity, Rwanda
University of Gondar, Ethiopia
University of Huddersfield
University of Ibadan Research Foundation
University of Maiduguri Teaching Hospital, Nigeria
University of Massachusetts Boston
University of Nigeria, Nsukka (UNN)
University of North Carolina at Chapel Hill
University of Nursing - Mandalay, Myanmar
University of Santo Tomas Hospital, Philippines
University of the Philippines Los Banos
University of Washington, School of Public Health
University of Zambia, Ridgeway
University Research Co. LLC
University Research Co., LLC
University Teaching Hospital Children hospital
US Centers for Disease Prevention and Control
Usmanu Danfodiyo University Teaching Hospital Sokoto
Vaccine Network for Disease Control
Vistagarnier International (VGi)
Voluntary Service Overseas
Vyakriti Consultancy services
We Girls Development Foundation
WE-CARE Foundation Liberia
West African Institute of Public Health
William V. S. Tubman University
Women Health Channel Uganda
World Health Organisation
World Health Organization
Yangon Children's Hospital
Yobe State Specialist Hospital Damaturu
Youth and Women Emancipation -YAWE
Youth connect innovation lab
Zimbabwe National Network of People Living with HIV (ZNNP+)
Zirikana non government organisation/Tuza-Our Glorious Heritage
Zivo Public Health Consultancy