Investments in school health are a strategic win-win for a country's education and health sectors - and more critically - a win for children and adolescents.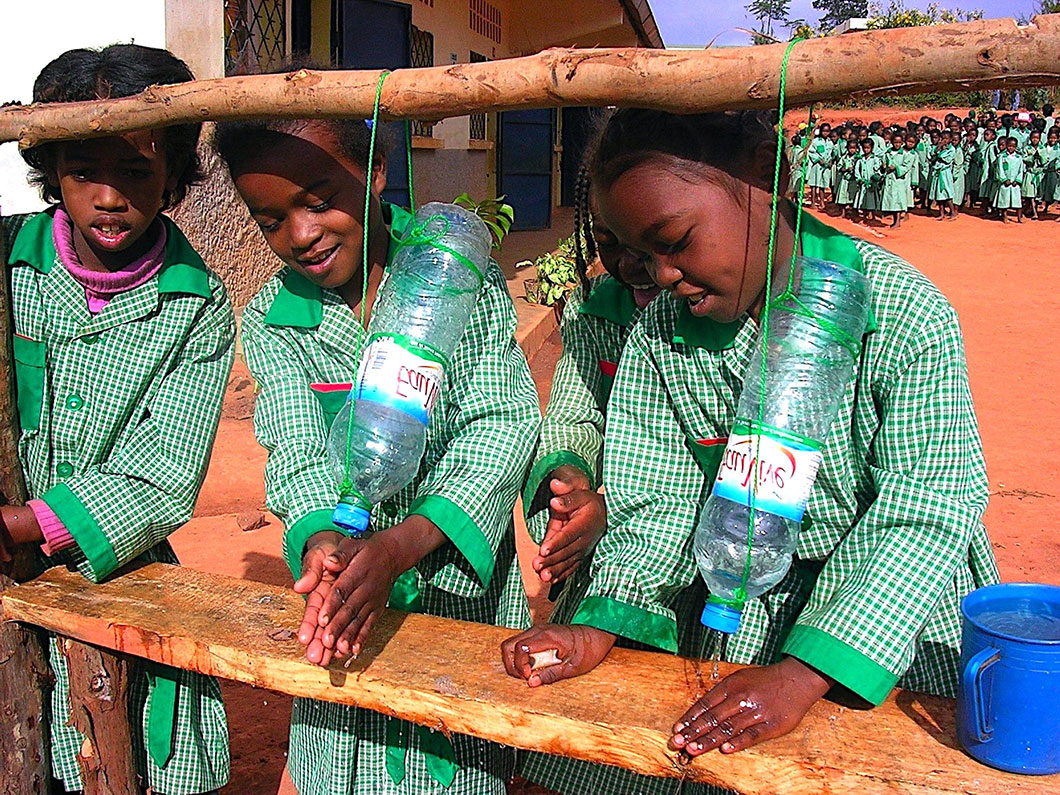 For the health sector, schools represent a cost-effective platform for reaching school-aged children with the interventions they need to achieve their human capital potential. For the education sector, delivery of health services and health sector investments ensures that a child's poor health is not a bottleneck to learning, growth, and cognitive formation. For these reasons, investments in school health and nutrition are synergistic and essential to other educational investments focusing on quality and access. Moreover, school health sets the stage for children to thrive and become transformative agents in their communities.
Check out our toolkit on school health and nutrition: a set of multimedia microlearning products for health and education policymakers, practitioners and donors.
What is School Health?
Broadly we can think about school health in terms of what is required for children to be healthy. One of the most well-known frameworks for making school health concrete and parsing it into major component areas is UNESCO's Focusing Resources on Effective School Health (FRESH) framework. In this framework, there are four pillars of school health:
Policies. Are there national, sub-national as well as school policies that make children safe and signal a commitment to every child's health?
School environment. Is the school environment safe and free from hazards? Is there clean water and other sanitation services?
Services. What sort of routine health services are offered at the school to students and are those appropriate and adequate for the students' needs? Services vary and examples include school feeding, deworming, HIV/AIDS prevention education, treatment for malaria and routine screenings for vision and hearing, among others.
Education. Are students provided with age-appropriate information to empower them to take ownership over their health and well-being?
---
What We Know About the Benefits of Strong School-Health Programs
Quite simply, healthy children learn better. For instance, certain conditions that are prevalent among school-age children and adolescents can impair cognition, attention span, and learning. To take one example, the average IQ loss for children with untreated worm infections is estimated to be 3.75 IQ points per child, and the average IQ points lost due to anemia is even higher. The good news is that most of these conditions are easily treatable. School-based health interventions in areas where these conditions are prevalent could result in 2.5 additional years of schooling for affected children.
Although the relationship between healthy children and able learners has been well-established, in practice many children remain inadequately supported. Prior estimates in low- and lower-middle income countries have found annual public spending for health for ages 5-20 is less than 3 billion USD. In comparison, public expenditure for education during the same age range is estimated to be more than 200 billion. Because health is a prerequisite for learning, these substantial educational investments likely fail to realize their true dividends as inadequate health serves as a constraint to learning and development.
The inadequacy of health investments for school-age children is being recognized more broadly. Furthermore, interest in SHN is more pronounced due to COVID, and school health has become a major priority action for building back schools, and not only in low- and lower-middle income countries.