June 6, 2023 - June 7, 2023
Online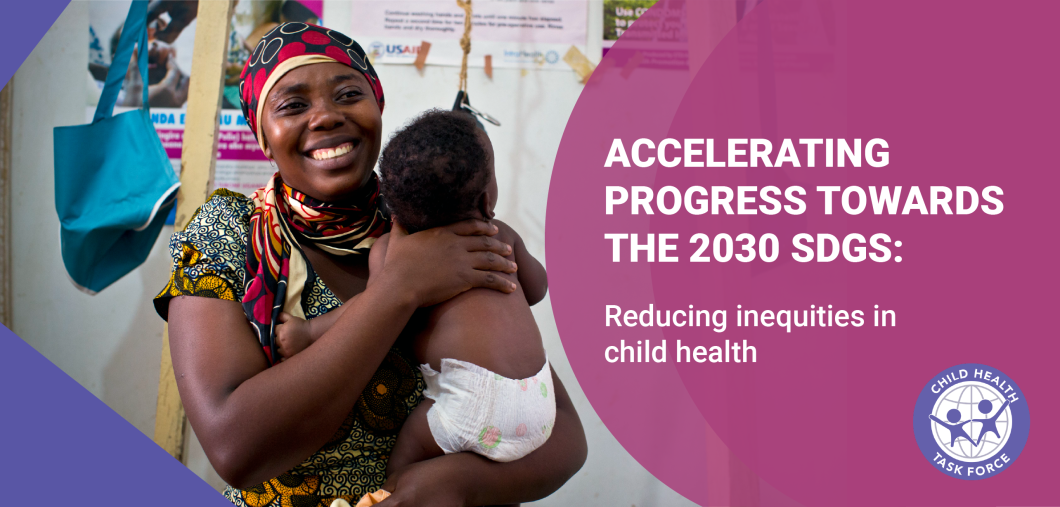 Currently 54 countries are off-track to achieving the SDG target for under-five mortality, and more will fall behind if we do not act with urgency. Against this grim reality, other countries have made tremendous progress in cutting back preventable under-five mortality showing that with determination and strong technical and political leadership, progress is possible. The Child Health Task Force is excited to announce its first virtual conference to unite child health partners around how we address health inequities to enable children across the globe and throughout the life course to survive and thrive. 
Thank you to all who joined us! Child health partners from around the world convened for a conversation on how we might address health inequities to enable children to survive and thrive. Inspiring speakers and expert practitioners, included:
Keynote speaker Dr. Atul Gawande, Assistant Administrator for Global Health, USAID
Professor Lisine Tuyisenge, Rwanda Paediatric Association
Professor Hadiza Galadanci, Africa Center of Excellence for Population Health and Policy, Bayero University Kano, Nigeria   
Dr Queen Dube, Ministry of Health Malawi
Dr. Sangeeta Yadav, Maulana Azad Medical College, New Delhi
Dr. Anshu Banerjee, WHO
Dr. Lu Wei Pearson, UNICEF 
Agenda At-A-Glance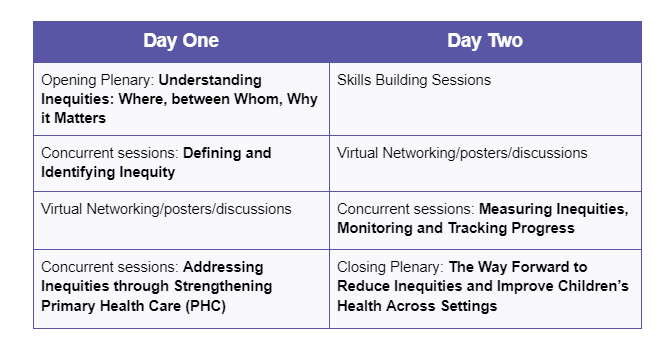 The plenary, concurrent sessions, and virtual conference site will be available in French and English.
Conference Objectives
Identify key vulnerabilities and risk factors that perpetuate inequities in child health across the countries represented in the Task Force membership.

Exchange promising and innovative programmatic and systems-strengthening solutions for reaching hard-to-reach children with lifesaving interventions.

Share experiences, models, and frameworks for accountability, measuring, and evaluating progress in achieving child health equity. 

Gather inputs to develop recommendations for advocating for governments, global partners, and donors to commit to addressing inequities in child health through renewed energy and focus on child survival and wellbeing.

 
 
Thematic Tracks
Across the tracks, presentations will showcase research results, emerging evidence, tools, program approaches, partnerships, policy action, financing, successes, and implementation failures that will foster deep reflection, provoke dialogue and spur action to reach the unreached children.
1. Defining and identifying inequity
Children born in sub-Saharan Africa are 12 times more likely to die before their fifth birthday than children in high-income countries, a statistic that has barely changed over the past 30 years. We know these inequities exist, but in order to address them, we need to define, understand and identify children who are affected, including those in humanitarian contexts, crisis and fragile settings, urban slums, rural areas, caste, and ethnic or religious minorities, etc.
2. Addressing inequities through strengthening Primary Health Care (PHC) 
Despite intractable implementation challenges and limited funding, some countries have made tremendous progress in improving health outcomes. These countries have strengthened the critical elements of the PHC systems as an inclusive health system.
3. Measuring inequities, monitoring and tracking progress
A major challenge has been establishing sustainable, quality mechanisms for measuring inequities and tracking progress.
Conference Materials